VDS CoBeNe activities
Second CoBeNe Annual Assembly
Our second annual assembly will take place on March 14, 2018 at the IMP lecture halle in third district of Vienna. You will find the program here as soon as scheduled.
Past activities
VDS CoBeNe & DK CogCom Workshop, 22-23 November 2017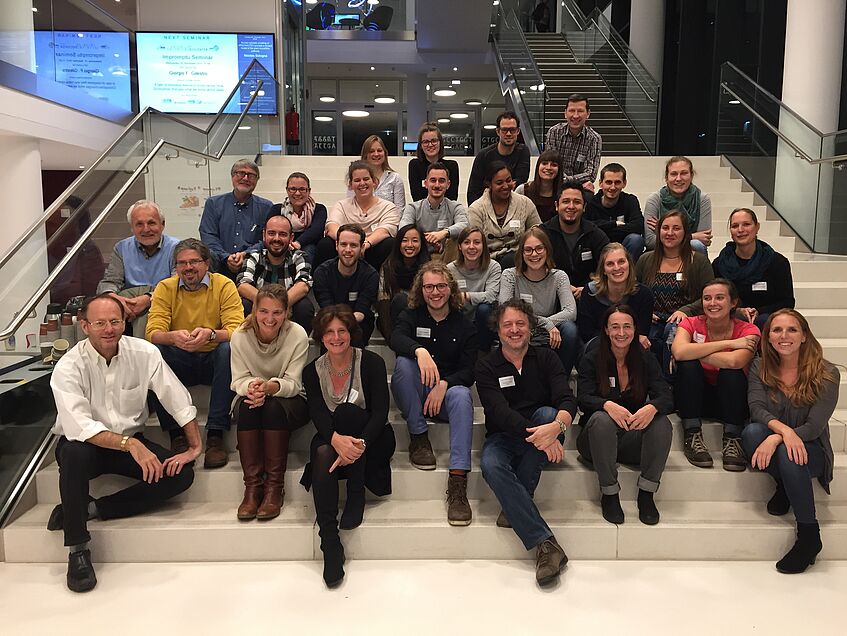 On 22-23 November 2017 we had our first workshop with PhD fellows and PIs at the brand-new IMP building. For more information see the programme.
- About doctoral education by Lucas Zinner, Center for Doctoral Studies, UniVie (pdf)
- PhD process without tears by Christian Kolowrat, Center for Doctoral Studies, UniVie (pdf)
Workshop: From Theory to Practice: Scientifically Investigating Intentions and Emotions in Contemporary Art, 7 and 9-12 November 2017
An interdisciplinary CoBeNe workshop at the 57th Biennale in Venice, Italy
The aim of this workshop is to get together motivated CoBeNe students from different scientific domains, who are interested in learning how to create and conduct an empirical field-study using classic behavioral approaches and mobile physiological measurements.
The study will investigate visitors' responses to contemporary art, the core question that will be addressed is how original artistic intentions transfer to emotional and perceptual experiences in art viewers.
Participants of the workshop will learn about professional psychological questionnaires and methods of behavioral observation and will learn how to use mobile body worn sensors, assessing ECG, EMG, Galvanic Skin Response, Optical Pulse / Heart Rate, and including Motion sensing.
The workshop is divided into three parts:
In the first part, a one-day-symposium will be held on 7 November 2017, in which participants get

input from experts on the fields of museum research and the psychophysiology of emotions

, as well on the Italian Pavilion of the 57th Biennale in Venice and the

artistic ideas and intentions

underlying the art displayed in it. Based on the information gathered from the talks, participants then together work out a

concrete research question

and discuss how to practically implement this in form of an empirical field-study.
In the second part of the workshop, 12 participants will then go to Venice, to visit the 57th Biennale and carry out the planned study on site of the Italian pavilion. The journey is planed from 9 - 12 November 2017.

Finally, in the third part of the workshop, the

collected data will be viewed and analyzed

, the procedure of the research study and the results will be

written up

, resulting in a CoBeNe-funded

publication

in a relevant research journal.
Participation in the workshop is free, travel-fees and costs for staying in Venice will be covered for successful CoBeNe student-applicants. While traveling to Venice is only possible for CoBeNe-students who participate in the full workshop, participation in the first part of the workshop is open for everyone who is interested, and therefore also possible without joining for the second part, i.e. without actually carrying out the study at the Biennale. However, registration is necessary for anyone who wants to participate in any part of the workshop.
If you would like to participate in the workshop, please fill out the registration form here. Successful applicants for participation in the full workshop (i.e., Vienna and Venice) will be notified by October 25th 2017.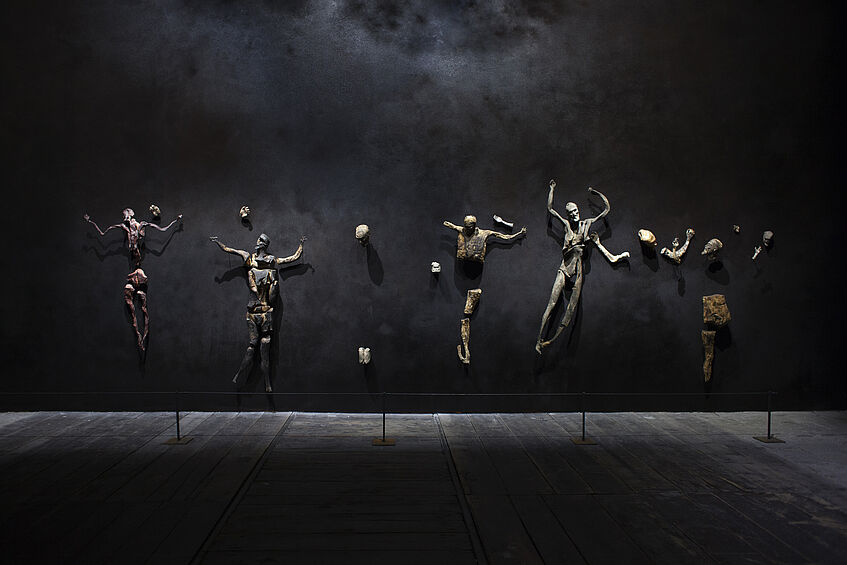 Talk of David Huron, November 6, 2017
Talk of Jason R. Yee, October 23, 2017
SPR Annual Meeting, October 11-15, 2017
At the annual meeting of the Society for Psychophysiological Research, 4 PIs of the VDS CoBeNe had a joint invited symposium:
ANA meeting September 24-26, 2017
The 15th ANA (Austrian Neuroscience Association) meeting will be held from September 24-26, 2017 at the IST Austria in Klosterneuburg, Austria. For more information please check here.

10th Vienna Aesthetics Symposium, September 21, 2017
The 10th Vienna Aesthetics Symposium will be held under the title
"Evolutionary psychology of facial attractiveness"
The keynote speakers of this year's symposium are:
Dr. Rob Jenkins (University of York)
Dr. Anthony Little (University of Bath) and
Dr. Romi Zäske (Friedrich Schiller University Jena)
Date: Thursday, September 21, 2017
Time: 16.00 – 19.00
Place: Faculty of Psychology, lecture hall G (2nd floor, left wing), Liebiggasse 5, 1010 Vienna
Please find attached the program and the abstracts of the 10th VAS.
VDS4 Symposium, September 14-15, 2017
The symposium "Interscience - 1st Symposium of the Vienna Doctoral Schools" is taking place on the 14th and 15th of September 2017 and you can find a preliminary program on our webpage.

This symposium is a unique opportunity to present your research to the entire PhD student community in Vienna and different prominent research groups. You can be part of it in many ways!!
We are currently looking for two students that would be interested in giving a talk of 20 min (+10min questions) about their research. This talk will be presented to a very diverse audience and would be a great chance to talk about your research in broad terms, to students from many different backgrounds.
We are also very excited to introduce the first "VDSlam: An alternative and entertaining way of presenting your PhD". The idea is to present your project (or just a part of it) in 5-7 min in an unusual and creative way (by singing, dancing, using a theatre play…).
Alternatively, you can also register for a poster, which should be presented during one of the two poster sessions.
If you're interested in contributing please send an email to any of the student speaker: simon.nimpf@imp.ac.at, lisa.anna.rosenberger@univie.ac.at, patrick.markey@univie.ac.at, ines.leca@imp.ac.at.
We're looking forward to your contributions!
Talk of Thomas R. Zentall
First CoBeNe Annual Assembly
Our first annual assembly took place on March 7, 2017 at the historic Josephinum in Vienna. Please find the program here.
Around 70 people attended the event, got more information about the Doctoral School in Cognition, Behaviour and Neuroscience and enjoyed the keynote speaker Raffaella Rumiati from ISSA, Trieste with "How is information about social groups represented in the human brain". Together with Peter König she was introduced as member of the VDS CoBeNe Scientific Advisory Board.
Participants got an impression of the Josephinum collection of the Medical University of Vienna and took the chance for networking with colleagues.
All fotos by Lukas Lengersdorff and Jessie Adriaense
PhD meeting group 1 and 2
All PhD members of group 1 and 2 are warmly invited to our meeting on Monday, 16th January 2017, at the new IMP, Campus-Vienna-Biocenter 1, 1030 Wien. The meeting will start at 13:30 at seminar room SR 1.014.
If you would like to attend, please register at vds.cobene@univie.ac.at.
First PhD meeting 15th December 2016
All PhD fellows of CoBeNe are warmly invited to our first - only for PhD fellows - meeting on Thursday, 15th December 2016, at LOOP, Lerchenfelder Gürtel, U-Bahnbogen 26/27. You will be informed about your advantages/possibilities at CoBeNe, have the chance to come to know better each other and first of all - spend a nice evening!
If you would like to attend, please register at vds.cobene@univie.ac.at
Kick-Off Meeting 11th October 2016
We have selected these eight talks (in alphabetical order), please click on the names for the abstract:
Elisabeth Adam: A Drosophila model of HSAN-1 - Of wrong connections, neurodegeneration and protein aggregation
Jessie Adriaense: Your pessimism brings me down, but does your optimism lift me up? Emotional contagion in common ravens (Corvus corax)
Robert Beattie: Lgl1 Controls Neural Stem Cell Lineage Progression via Intrinsic and Cell-non-autonomous Mechanisms
Bruno Miguel Fontinha: Unraveling new functions of an ancient vertebrate deep brain photoreceptor
Isabelle Laumer: Eat now or use tool? Profitable decision-making in Goffin cockatoos (Cacatua goffiniana) and orangutans (Pongo abelii)
Patrick Markey: Semantic and syntactic processing of Art: perception of paintings and associated distinct neurophysiological brain responses
Annika Nichols: Sleep and wake in C. elegans are global brain states under tight control of arousal circuits
Mario Thalwitzer: Pose as a Gender Signifier
The full program you can find here.
At the invitation of the Research Institute of Molecular Pathology (IMP), on 11th October 2016 our KickOff event took place at the Vienna Biocenter.
About 120 scientists of VDS CoBeNe were impressed by the variety of methods, research approaches and the presentation of selected topics from the disciplines neuroscience, cognitive and behavioral biology, psychology and art history.
The VDS CoBeNe initiates with this kick-off the transformation to a new generation of PhDs: open for an exchange of methods, transfer of knowledge intra-discipline and beyond and open for discussion about their own research results in a parent context.
As part of the presented talks and poster, the following PhD candidates were distinguished: Jessie Adriaense (best talk), Rashmit Kaur and Vedrana Šlipogor (best poster). We congratulate the laureates warmly!
All fotos by Alexandru Munteanu.